Freewing F-104 Starfighter Silver 90mm EDF Jet ARF Plus Servos RC Airplane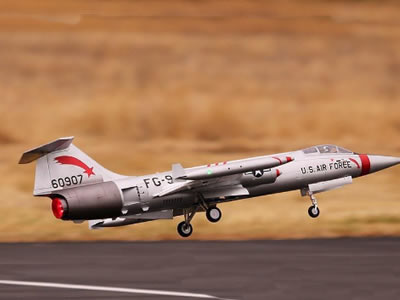 Freewing F-104 Starfighter Silver 90mm EDF Jet ARF Plus Servos RC Airplane
Price: US$370.00
Shipment cost: US$100.00
Estimated Delivery: 3 to 7 business days
Freewing F-104 Starfighter Silver 90mm EDF Jet - ARF Plus Servo RC Airplane
1,Minimum 8-9 Channel Radio
2, 8-9 Channel Receiver
3, 6 Cell 22.2V 5000 mAh 50c Lipo Battery with EC5 Connector
if you want to know wholesale discount price,please contact us by e-mail.
Note:
If your shipment is delivered to a remote area,this charge will be added to your shipping cost.Checking your area is a remote area or is not a remote area on the website:http://remoteareas.dhl.com/jsp/first.jsp
Freewing F-104 Starfighter Silver 90mm EDF Jet ARF PLUS Servo RC Airplane Specifications:
Attention:
This is the ARF+Servo version for pilots who wish to install their own power system. All primary electronics including servos and landing gear come pre-installed, just add your own power system (EDF, motor, and ESC) to begin flying.
Following up on their popular 70mm variant, Freewing has answered the many customer calls to scale up their F-104 Starfighter and give it the full "90mm Super Scale" treatment. Own a bigger piece of aviation history with this sleek and storied interceptor, the Missile With a Man In It!
The Freewing 90mm F-104 boasts a host of features that until recently were unimaginable in the foam electric market for this price point such as scale operating landing gear CNC machined from durable 6061 aluminum with steel axles, completely removable flying surfaces, pre-installed gyro flight stabilizer, functional speed brakes, and a pre-installed LED afterburner ring. Additional features include sequenced landing gear doors, an integrated circuit board to simplify wiring, LED formation lights, magnetic nose cone, removable tip tanks, and plastic details including a molded tail cone. The model also introduces an innovative mechanism built into the speed brake that both operates outwards as a speed brake and collapses inward as a spring-loaded cheater vent.
Intended as a "Scale Plus" flyer, the Freewing F104 Starfighter excels in scale maneuvers, stable flat passes, fast rolls, and tall loops. It looks like a rocket sprinting upwards toward the sun! The F-104 has a predictable glideslope, and its landing attitude will be familiar to those who have flown the Freewing F-16.
we are also offering the Freewing 90mm F-104 Starfighter with a pre-installed Freewing E51 Gyro at zero additional cost from the other Super Scale Series jets from Freewing. The Freewing E51 Gyro stabilizes the flight handling of the aircraft in all three axes, contributing to a more accessible control experience. The Gyro is pre-installed and the gains can be adjusted separately for the Aileron, Elevator, and Rudder channels.
The Freewing 90mm F-104 Starfighter is quite a surprise at the flying field because it flies much more stable than it appears it can. Onlookers will swear that it cannot fly slowly due to the F-104's iconic stubby wings, but in fact Freewing has optimized their RC rendition to handle gently at a wide flight envelope while remaining as true to scale appearance as possible. With its scale landing gear, iconic profile, and other details, the Freewing 90mm F-104 Starfighter will be a standout in your hangar and at your flying field!
Features:
Freewing Model
is The world's largest foam electric ducted fan model of the F-104 Starfighter
Electric retracts with scale, shock-absorbing struts and main operation, CNC'd from 6061 aluminum and suitable for pavement or short grass
Sequenced gear doors provide added realism and reduced drag
Removable wings, stabilators, and nose cone for easy transport and compact storage
Machine screws and brass threaded inserts are used to attach the wings for a secure fit and longevity
Gap-less hinges on all flight surfaces for scale appearance
Bright LED navigation lights for enhanced realism and dawn/dusk maneuvers
Pre-installed LED afterburner
Speed brakes (Requires 8th Channel)
Carbon fiber wing spars and reinforced body parts
Upgraded pushrod clevis and metal ball head connectors on elevators provide a robust connection between servo and control surface and eliminate "play"
Nylon hinges on all control surfaces (superior to foam hinges)
95% glue together assembly (Only one fuselage joint requires epoxy)
INCLUDES:
Freewing F-104 Starfighter Silver 90mm EDF Jet - ARF PLUS Servo
REQUIRES:
Brushless motor, EDF unit and ESC (see specifications for details)
8 Channel Radio - Select a minimum 8 channel radio from our Radio Collection
8 Channel Receiver - Select a minimum 8 channel receiver (Aileron, Elevator, Throttle, Rudder, Gear, Flaps, Gyro on/off, Air Brakes)
6 Cell 22.2V 5000 mAh 50c Lipo Battery with EC5 Connector - EPR50006
6 Cell Compatible Battery Charger - Select a minimum 6 cell (6S) charger
Tech Note:Please check to make sure that all control horns are securely glued into the foam wing and stabilizer surfaces before flying the aircraft. If any control horn is loose, apply extra glue to ensure the control horn has a strong bond to the foam.
PRODUCT SPECIFICATIONS:
Wingspan

755mm / 29.73in

Length

1720mm / 67.71n

Flying Weight

3550g / 125.22oz

CG (Center of Gravity)
78mm from the leading edge of the wing at the root

Power System

3748-1550kV Brushless Outrunner Motor with 3150g thrust (PNP only)

Electronic Speed Control

130A ESC, 8A UBEC, EC5 Connector (PNP only)

Propeller / EDF

90mm Metal Housing EDF with 12 Blade Fan (PNP only)

Servos

9g metal gear standard with 300mm lead : left main gear door
9g metal gear standard with 100mm lead : nose landing gear steering
9g metal gear reverse with 100mm lead : nose gear door, right main gear door
17g metal gear digital standard with 100mm lead : right elevator
17g metal gear digital reverse with 100mm lead : left elevator
17g metal gear standard with 300mm lead : left aileron, right aileron
17g metal gear standard with 550mm lead : rudder

Landing Gear
CNC electric retracts with scale, shock-absorbing struts and main operation

Required Battery

6S 22.2V 5000mAh 50C LiPo with EC5 connector (not included)

Required Radio

Minimum 7 Channel (required)

Ailerons
Yes

Elevator

Yes

Rudder
Yes

Flaps

Yes

Lights

Yes

Hinge Type

Nylon hinges

Material
EPO Foam
Skill Level
Expert
Build Time
2 Hours
Recommended Environment
Outdoor